With winter drawing to a close, I've grown increasingly tired of my winter scents and have been on the hunt for a new perfume suitable for the warmer months – something fruity and playful with a bit of seductive edge.  Victoria's Secret answered my prayers with the launch of Forbidden from their spring 2014 fragrance collection!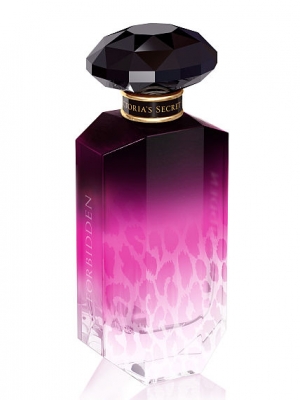 It has been said to 'never judge a book by its cover,'  but packaging is always important to me when purchasing a perfume, as my perfume bottles sit out on my dresser serving as decoration. This bottle was the perfect addition to my collection – the magenta ombré colouring, leopard print detailing, and oval jewel-like top make for an ultra-feminine, elegant flacon.
As visually pleasing as the bottle may be, the perfume's scent will ultimately determine whether I purchase it or not (I guess the saying holds true after all). Luckily, Forbidden's scent is right on par with its packaging. I can't wear this perfume without receiving a compliment on it, and for good reason – the exotic pear, jasmine, amber wood and juicy blackberry aromas are intoxicating!
As a lover of warm scents, I always struggle with finding a perfume that won't be too heavy for the spring and summer months. With rising temperatures in the spring and summer causing my body to radiate more heat, I often find warm fragrance types end up being much too strong. While Forbidden is a warm fragrance, it has added light, fruity notes of blackberry and pear to balance out the heavier, woodsy scents. The unique balance of fruity and woodsy aromas not only makes the fragrance light enough to wear during the spring and summer, but also gives it, as Victoria's Secret describes it, an "exotic, steamy twist."
The only downfall for me was that the perfume seemed to fade after about 3-4 hours of wear. Though it's not ideal to have to reapply every few hours, it's not much of a pain either – I simply keep a Travalo refillable spray filled with Forbidden in my purse and give myself a quick spritz when I feel it's needed. Another way to prolong the wear of this would be to layer it with the Forbidden fragrance lotion
If you want it to feel like summer while waiting out the dregs of winter, get your hands on a bottle of this eau de parfum and let the scent take you away to a tropical paradise!
Forbidden EDP $18-$68US  Available in:  7ml rollerball,  50ml & 100ml sprays in VS stores or online
As written by Lauren Wilson
Read more

→